Modest Momma Style: Little Pink Bow Tank
Saturday, June 15th, 2013
You should know that when I was adding a title to this post, I came up with a handful of extremely cheesy one-liners that I decided not to use. However, they were too ridiculous not to share!
A BOW-U-TIFUL TOP
YEAH BOW-Y
BOW BOW BOW YOUR BOWT
Yup. That just happened. Anyway. This is definitely a TREND ALERT. We are seeing bows everywhere this Summer. From dresses to shoes, jewelery and shorts… bows are popping up everywhere.  I ordered this Little Pink Bow Tank from Hazel & Olive last week, and it is even more precious in person that it is online! It is sheer so I had to add a bandeau underneath it, but not so sheer that I felt like you could count the freckles on my tummy.
You may be looking at this outfit and thinking… Um… cute, but I'm not going to wear that in my everday life. I ask you… why not?!
A brief sampling of my day. Today, I was standing at the sink rinsing the breakfast dishes when a mouse ran across my kitchen floor. Yes. A real-life honest-to-goodness mouse. My house is about 30 feet away from a wheat field and it is harvest time. They just cut all the wheat and the little fellow needed a new home.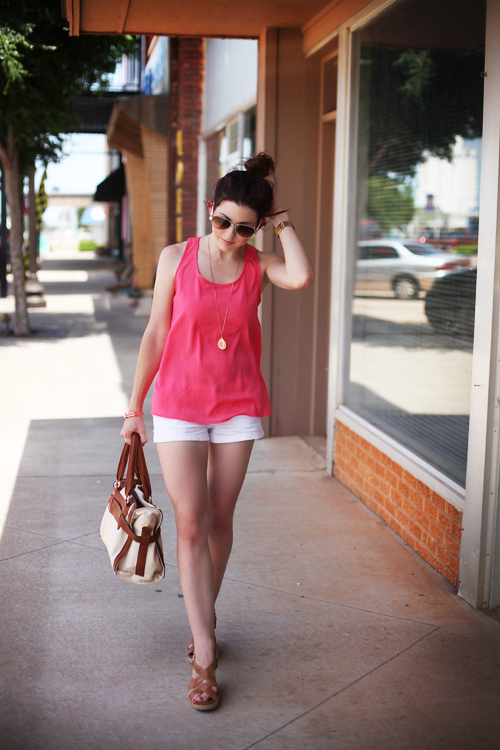 I asked my son if he saw it too and he said, "what WAS that, momma?! Dang. I didn't imagine it. I paniced kept my cool and called my mother-in-law. "Hey, whatcha up to? Hey, I've got a question. I think I saw something run across my floor and jump into my kids toy cabinet. It was pretty fast. What do you think it was?" – and what I really wanted to say was, "GET OVER HERE AND SET TRAPS, LADY! I'VE GOT A MOOOOOOUSE!" She said she would come by later to set them for me, but until then, I felt helpless. I had no traps and zero ability to think clearly. So, I put my kids up on the couch and turned on Seasame Street. "Hey, kids. Stay on the couch for momma. Okay? There's a silly mouse in our cabinet!" What I wanted to say, "STAY HERE! DON'T MOVE! THERE'S A MOUSE AND IT WILL GET YOUUUU!!!!' Okay. I might have said a mixture of those phrases. It was all so fast.
Meanwhile, my husband is planning to take my son to the city with him while he takes his welding machine to be worked on. So, I get my little guy dressed and try to convince my daughter that we are going to have a great time without bubba while equally trying to convince my son that we are going to have zero fun without him. *sigh
Time to load up the car. I go outside to wave goodbye, and my daughter hands me an old sucker that she picked up from our driveway still in the wrapper. Yuck. I do what every mom would and pocket it so she wont eat it. We wave goodbye and go inside. I'm on the phone telling my best friend about the mouse that tried to attack me when "ouch!" "ooooouch!" It feels like there is a pokey tag in my pants. I reach in the back to see what is scratching me and I pull out ANTS! ANTS! I dropped my pants right there in the kitchen and ants go everywhere! What the… oh my goodness… the SUCKER! I opened the wrapper and a ball of red ants has replaced what used to be pineapple candy. Holy cow.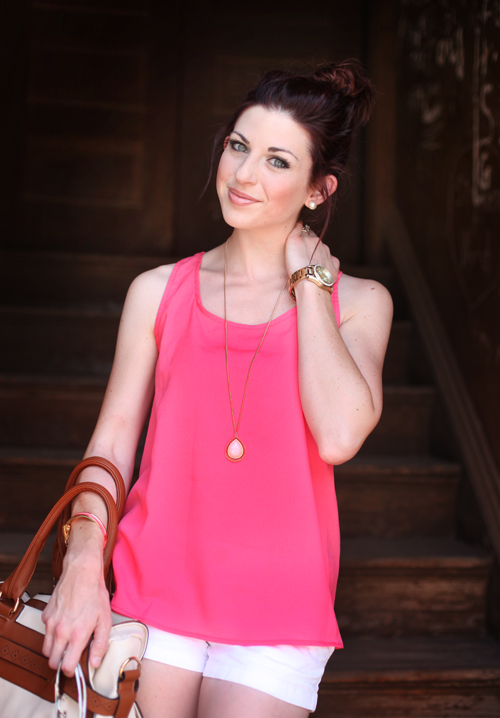 This is the part where I tell you that I totally handled all of that while looking fantastic in my adorable outfit. Unfortunately, this all took place in my jammies. I did, however, jump into the shower after the ant craziness and put on this outfit as a sort of reward for living through such unimaginable crisis. Needless-to-say, the rest of the day was just as bizarre as the beginning, and I could go on and on about how cute I looked while handling it all, but this post is already in need of a chapter break. That being said… check back soon for Mouse Hunt 2013 Part 2. It is sure to be full of adventure.
Top: Hazel & Olive
Shorts: Target
Shoes: Jessica Simpson
Bag: Hazel & Olive
Comments