To the Pregnant Woman without Options
Friday, June 20th, 2014
His feet roll along the underside of my ribs. I put my hand on the top side of my tummy to feel them as they go by. Precious little feet. In August, those feet will no longer be tucked warmly inside of me. They will be snuggled up in tiny little socks, and kissed a million times, and they will begin to grow entirely too fast just like his brother's and sister's did. Those toes are already so loved.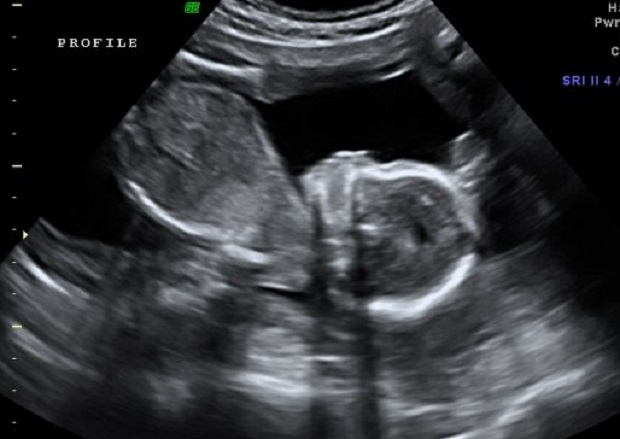 Last night, as I lay in bed completely uncomfortable, I thought about her… maybe about you. I thought about the pregnant mom who is all alone. I thought about the woman terrified by tiny feet and everything that they will mean. I thought about the woman who has no options.
I couldn't imagine what it must be like to not only be uncomfortable, but also so afraid.
A long time ago – 31 years this August, there was a woman just like you. She, too, was without options. She felt as though there was no way for her to care for a baby. She felt abandoned and alone most days. But she made a decision. She decided to carry that baby until the day he was born. With every passing day, she loved that baby knowing that he would likely not be hers to raise. With every move and every kick inside of her, he reminded her that she was making a beautiful choice.
And when it came time for him to be born, she held him closely, and then said goodbye. She passed him into four waiting arms who would raise him to become a man of integrity and honor. Who would love him and call him their own. Who had been waiting and praying for him long before he was born.
And I am so grateful. I am so eternally grateful. Because the decision of that precious woman to carry her baby boy meant that exactly 31 Augusts later, I could deliver mine.
I have the family that I have today because a beautiful and brave woman chose adoption for her son – my husband.
I am here today because my grandfather was placed for adoption. My husband is here today because his mother chose adoption…. And my precious babies are here as a result of those choices. Everything that you see on this page is possible because of the women who chose adoption – every life impacted – every heart encouraged – every destiny changed all because of the women who chose life.
Adoption is such a beautiful gift – a beautiful picture of God's eternal love. It is a promise to love and raise a child as your own even if that child grew inside of your heart instead of your womb.
To the woman who is pregnant, scared and alone, I want to encourage your heart today. There are options. There are generations of healthy and happy life that can come from that precious baby growing inside of you. There are families full of birthdays and graduations and marriages that can come from the decision to let that baby have a chance at life.
There are good homes and wonderful families just waiting/praying for a chance to love that baby inside of you. And importantly, there are wonderful organizations eager to help you choose just the right one.
I am thinking of you today, precious friend. I am praying that the Lord would speak to your heart. You might not know Him. You might not believe or trust or want anything to do with Him, but He loves you – and He loves your baby.
My prayer is that you would choose life. My prayer is that those squirms and moving feet would not bring fear, but each day would remind you of the beautiful choice that you continue to make.
Thank you to those who have chosen adoption, those who have adopted, and those who will make that choice today. Your decisions will ripple across eternity.
Comments