Modest Momma Style: Aztec Sweater (Sponsored by Hazel & Olive Boutique)
Friday, November 27th, 2015
When I decided to do these simple style posts again, I knew that I wanted to show looks that mommas could wear in their real lives. I didn't want to showcase clothes while standing in a back alleyway or along a busy road. Not because those pictures aren't great, but because they aren't my typical life. So, here are a few pictures I took while standing in my kitchen dressed in an outfit I really wear in my actual life.
You can find every part of this outfit (except for the T-shirt) at Hazel & Olive Boutique. The T-shirt is something I designed myself.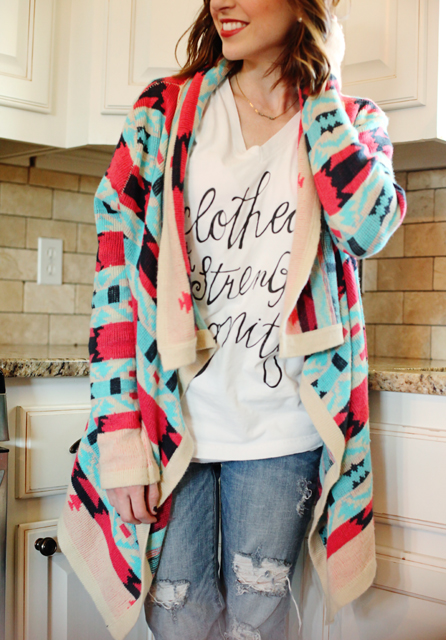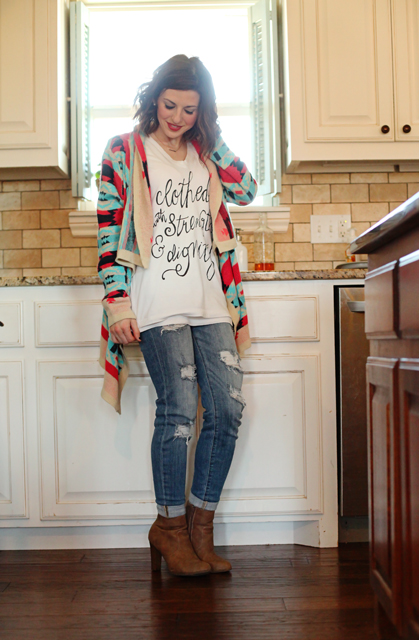 Outfit Details:
Sweater | Sponsored Hazel & Olive Boutique
Jeans | Sponsored Hazel & Olive Boutique
Shoes | Sponsored Hazel & Olive Boutique
So here is how this works. I will post photos of easy style ideas like these. Some of these items are sent to me for free. Some of the items I purchase. Some of the retailers pay me to showcase their products here. But all of the opinions of these products are honest and my own… and if I didn't love them, I wouldn't wear them, and I definitely wouldn't show them to you.

Comments