The You-Can-Do-It (And Why You Should) Complete Guide to Eliminating Food Dyes
Wednesday, May 2nd, 2018
Note: I'm not a doctor or nurse nor do I have any medical background by which I can offer any professional advice. The information shared here is purely an anecdotal account of our experience with artificial food coloring. All sources are cited. And some links are affiliate which means I will earn a small commission of you choose to purchase products after clicking a link.
Nearly two years ago, I shared the story of our family's chaotic experience with food dyes. Since then, I have received countless messages from other parents and caregivers saying, "I think my child might be suffering as well, but where do I start?"
I remember feeling the same way when someone suggested that my daughter's out-of-control and impulsive behavior might be linked to artificial food coloring.
"Isn't food-dye in everything?"
"Where do I even find dye-free foods?"
"Is it really the food dye causing the problems?"
I wanted to ignore it. I wanted to pretend like life could just go on, and we could keep eating without having to adjust our buying and eating habits. My children also have severe food allergies, and it just didn't seem fair. It felt almost cruel to add one more thing to the list of foods they had to avoid.
But nearly two years later, I can confidently say that I feel as though I saved my daughter's childhood by removing food dyes.
What? Don't I mean that I ruined my kid's childhood? Nope. I mean I saved it. Because what my child needs more than that hot pink cupcake at the birthday party, is peace in her heart and the ability to control her actions. She needs to know that she's a great kid and that the chemicals in her food are bad…  not her.
Listen. There are hundreds of thousands of people out here just like us… perhaps just like you, finding our way in a chemical-filled food world with children who simply cannot process the neurotoxic effects of artificial coloring, flavors and ingredients.
So, if you're like me, just starting, wondering where to begin, I applaud you for advocating for your child… who doesn't do the grocery shopping, make the meals, or swing through the drive-thru… and who counts on you to make the decisions for them.  I applaud you for deciding to look into this further for the sake of your child and the peace of your home.
You are not depriving your child by eliminating food dyes. You are empowering and freeing your child.
So, what is your first step?
STEP 1: LEARN THE FACTS
While the United States Food & Drug Association (FDA) does not require companies to acknowledge the potential side-effects of artificial food coloring, the United Kingdom equivalent, the Food Standards Agency (FSA), states on their website:
"We funded research into possible links between food colours and hyperactivity in children. It found that consuming certain artificial food colours could cause increased hyperactivity in some children.
These artificial colours are:
• sunset yellow FCF (E110)
• quinoline yellow (E104)
• carmoisine (E122)
• allura red (E129)
• tartrazine (E102)
• ponceau 4R (E124)
Food and drink containing any of these six colours must carry a warning on the packaging. This will say 'May have an adverse effect on activity and attention in children'.
We encourage manufacturers to work towards finding alternatives to these colours. Some manufacturers and retailers have already taken action to remove them." (Source)
Three out of seven of these ingredients known by the FSA to cause behavioral problems in children are the most commonly used food dyes in America.  Our most common dyes are:
Blue 1
Blue 2
Green 3
Red 3
Red 40 (UK name: Allura Red)
Yellow 5 (UK name: Tartrazine)
Yellow 6 (UK name: Sunset Yellow)
A complete list of color additives approved in the United States can be found on the FDA's website.
Fun fact: Did you know that American/European companies that operate in both countries remove the food-dyes from their European products?
Smarties, a UK chocolate candy manufactured by Nestlé, are similar to Nestlé's M&M's. In 2006, it was announced that Nestlé was removing all artificial colourings from Smarties in the United Kingdom. Nestlé decided to replace all synthetic dyes with natural ones. (Source)
Why can't we make the same thing happen here? I think it's possible! After a petition to remove Yellow 5 & Yellow 6 from Kraft Mac & Cheese garnered over 350,000 signatures, Kraft removed the artificial dyes and replaced them with natural alternatives.
We just need enough people fed up with being fed harmful ingredients.
STEP 2: READ THE LABELS (EVERY LABEL)
Read the label of everything you or your child might ingest. If you decide, you can expand your avoidance of dyes to everything you or your child might apply topically.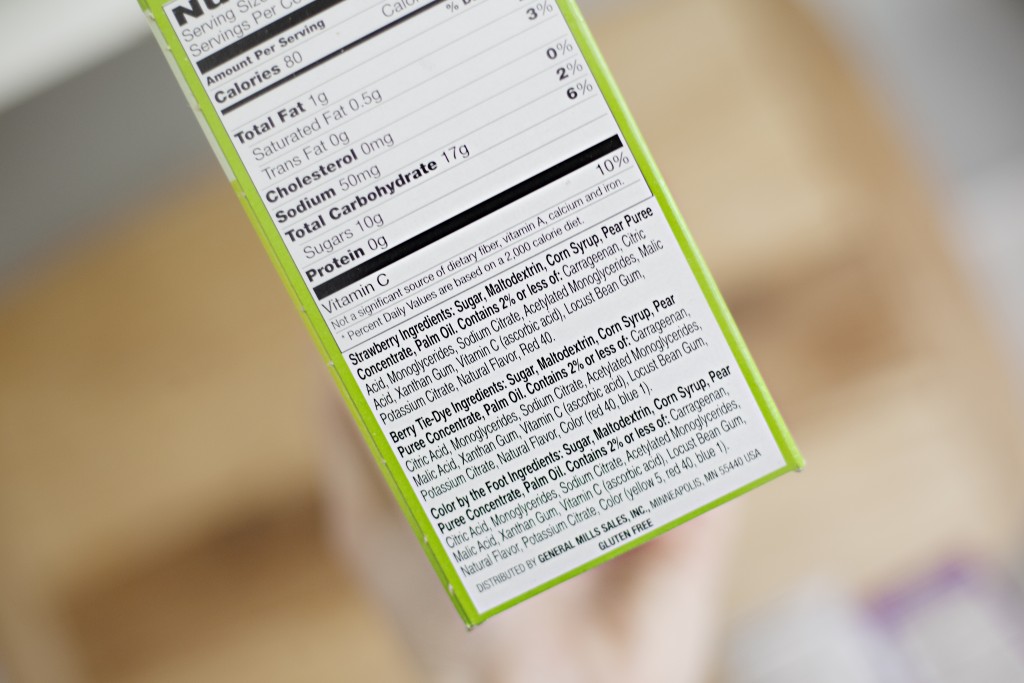 Turn over the package and look at the back or side labels. It can feel like reading another language, but if the product contains artificial food colors, they will be listed in the ingredients (likely but not always at the end of the list). Remember, the most common food-dyes are:
Blue 1
Blue 2
Green 3
Red 3
Red 40
Yellow 5
Yellow 6
In our home, we also avoid Titanium Dioxide used to make foods white and caramel color used to make foods brown.
STEP 3: DON'T BE FOOLED
Food coloring additives sneak their way into our foods, medications and health/beauty products. Some perhaps overlooked products containing food dyes:
• Pickles
• Canned Cinnamon Rolls
• Pre-made Pie Crusts
• Vanilla Ice Cream
• Pre-Packaged Microwave Popcorn
• White Marshmallows
• Toothpaste
• Medications
STEP 4: FIND DYE-FREE SUBSTITUTES
I can almost hear the overwhelmed parent's thoughts. "Do you know how many foods I'm going to have to change?"
That's the point. One study suggests that over 43% of all foods marketed to children have artificial food coloring!
But take heart, two years into this lifestyle, I can tell you there is a substitute for just about every favorite snack you're worrying your kid might miss… they just might not be made by Big Name companies.
FRUIT SNACKS
We are big fans of everything Annie's in our house. This is a great brand to support!
We are also big fans of Stonyfield Organic products!
CANDIES
We love the natural candy store! EVERYTHING is dye-free and you can also specify if you have any allergens and search their site accordingly!
NATURAL COLORING FOR BAKING/COOKING
Are your kids destined for ugly cupcakes? Colorless frosting? Hardly! The Natural Candy Store has sprinkles, dye-free natural food coloring, and dye-free marshmallows!
JUICE DRINKS
What about those sugary drink pouches that you want to grab for lunch boxes or after the ball game?
COOKIES/SNACKS
My kids love the Immaculate Baking Company treats! These are a dye-free alternative to the other canned cinnamon rolls found at your local grocery store.

We love Annie's cookie and cracker snacks as well!
STEP 5: REMEMBER WHY
This is a big change for some families. So, when it feels frustrating, remember why you do it. It's why we do everything for those we care for… We do it because we love them.
I believe that somewhere there is a momma or daddy or teacher or caregiver who needs some help. I believe that there is someone who feels hopeless. I believe that there is someone who feels just like I did and wonders what they can do.
Our hope is that this is a starting point for healing to begin in someone else's home. Perhaps it is yours.