My Landing Place
Tell me if you ever feel this way. You think the internet is an incredible resource to find information, stay up-to-date with friends, and expand your connection with the world around you. But social media can feel so gross somedays.
Don't get me wrong! I LOVE that I can connect with all of my people. I LOVE our Facebook community.
I just wish it was safer… and I don't only mean from spammers or creeps. I wish that there was a place where we could share our hearts without the fear of retaliation from strangers who just don't understand us. I wish there was a safe place for like-hearted women to encourage one another, pursue Jesus, and study the Word of God together.
What if there was a safe place for us to land?
A few years ago, the Lord placed on my heart the calling to begin an online Bible Study. He began to share with me a picture of women joining from all around the world, finding a safe haven to rest their hearts, reconnect with each other and the Lord, and experience a spiritual revival. From this vision, My Landing Place has been born.
What is My Landing Place?
Centered around a 3 month Bible Study series, My Landing Place is a private Facebook group, accessible only by subscription.
What Does Membership Include?
Every three months, I will lead a community of women through a Bible Study in our private Facebook group. Members will have access to:
The Private Facebook Community for 3 Months
Daily Bible Study Reading and Response Questions
Weekly Online Video Meetings (archived for later viewing)
Printable eBooks of the Monthly Reading Plans with Journaling Space
How Do I Join?
Enrollment is only open before the three month study begins and while there are still membership spaces available. Membership space is limited, and once the session begins, membership closes.
How Do I Know If Enrollment Is Open?
If the purchase links below are active, you can still join! Once membership closes, a form will appear, allowing you to be placed on a waiting list for the next 3 month session. If you choose to fill out the form, you will be notified once the next session is open for enrollment.
How Much Does A 3 Month Subscription Cost?
The membership fee is $9.99 per month. If after the first month you are no longer interested in being part of the group, you can cancel your subscription at anytime. We also offer a one time payment option for $27. This a discount of nearly 10%.
Can I Really Unsubscribe?
Absolutely. If you choose to pay monthly, you can unsubscribe using this link. If you unsubscribe and you would like to reenroll in the future, you will not be able to subscribe and reenter the group until the next session begins.
What Are the Dates of the Next Study?
Our next study will run from September 15-December 15
What Will You Be Studying?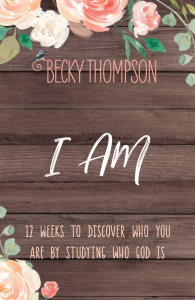 How Do I Reserve My Place?

Enrollment is now closed. Sign up below to be the first to know when the next session is open for enrollment.
Once I pay, What happens next?
Once your payment processes, you will be redirected to a welcome page! This page will have the link to our private Facebook group. Request to join the group, and a few days before September 15th, your request to join will be approved!
Feel free to use the contact form FOUND HERE for any questions you may have! I'm looking forward to getting to know you in the group!