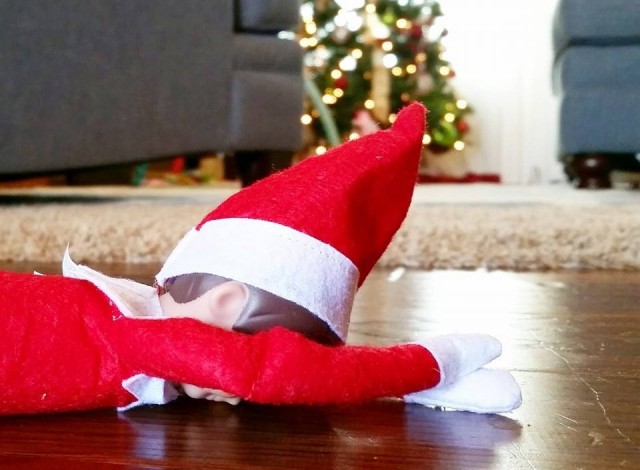 I can see you over there… trading out your regular anxiety and stress for festive holiday anxiety and stress.
The last of the turkey leftovers have been eaten, and it's officially Christmas time.
Magical. Your neighbor's Christmas lights are going up and so are the expectations you feel to make this season special for YOUR family.
You're wondering how you're going to fit that toy your kid is asking Santa for into the budget… when there are still things like bills to pay.
Sure there are sales… but it's still all so expensive.
The Door Buster deals and the Cyber Monday deals and the up to 60% off deals are still more than you can comfortably afford… and those sales almost taunt you. "Look! We're holding it closer. Can you jump and reach it now?"
You've got pageants and recitals and Christmas plays coming. Gifts for the teacher and class parties. There will be Church festivals and small group gatherings and work parties… and everyone will need something to wear to all of it.
Tights and shoes and matching sweaters for the boys. Glitter hair bows and a new set of cute cold weather boots… all uncomfortable outfits that you'll have to force your children to wear when they'd rather wear the Shimmer and Shine or Paw Patrol shirts.
Christmas pictures that will hopefully turn into Christmas cards, but might never make it into the mail and only onto the internet…
And a tree… a tree that you might have to keep the baby from playing with or let the big kids decorate (when you'd really rather just do it yourself, but they're so proud of their clumpy ornament placement).
And memories… freaking happy memories to make dangit. Cookies and gingerbread houses and snowflakes out of coffee filters. Hot cocoa and Christmas movies… and 3,679 commercials for all the things they REALLY REALLY want instead of that one thing you sold a kidney to buy (BECAUSE THEY ASKED SANTA FOR IT AND HAD TO HAVE IT A WEEK AGO).
So much pressure!
Hey friend? In one month, it will all be over. One month from today, all of the presents will have been opened, all of the batteries will have been installed, some of the wrapping paper may have even been thrown away, and your kids will probably be asking to play on some screen instead of with that expensive toy they had to have.
And as you sit and wonder if everyone is happy, if you succeeded in making this Christmas good enough or magical enough or special enough for your family…
I want you to remember this moment. This moment before it all really gets going. This moment when you decided that your best will be good enough, that your children already have all that they really need, and that you aren't going to believe that your family's happiness rests on your shoulders alone.
You are going to remember this moment when you decided to look ahead to the finish line and make the choice to strip away every expectation for what Christmas should be or needs to be and just….let….it… be whatever it will be.
So before we get going, before one more sun comes up or goes down, bringing us that much closer to celebrating the birth of our Lord, (which is what we too often forget Christmas is really all about), we are going to pause. And in this beat… this short break… this one fleeting moment… we are going to ask the Lord to walk each day ahead with us.
We are going to ask Him to help us stay present and free from the yucky burden of self-imposed expectations… and we are going to embrace our Paw Patrol shirt life.
You are a rockstar. You are going to add so much joy to your home this Christmas.
And I hope this Christmas turns out to be everything you want it to be.
But more than anything, friend, I hope that whatever it is ends up being is more than enough.
It will go by in a flash. Hang on tight. We got this. Deep breath. And…. break.
MORE HOLIDAY ENCOURAGEMENT