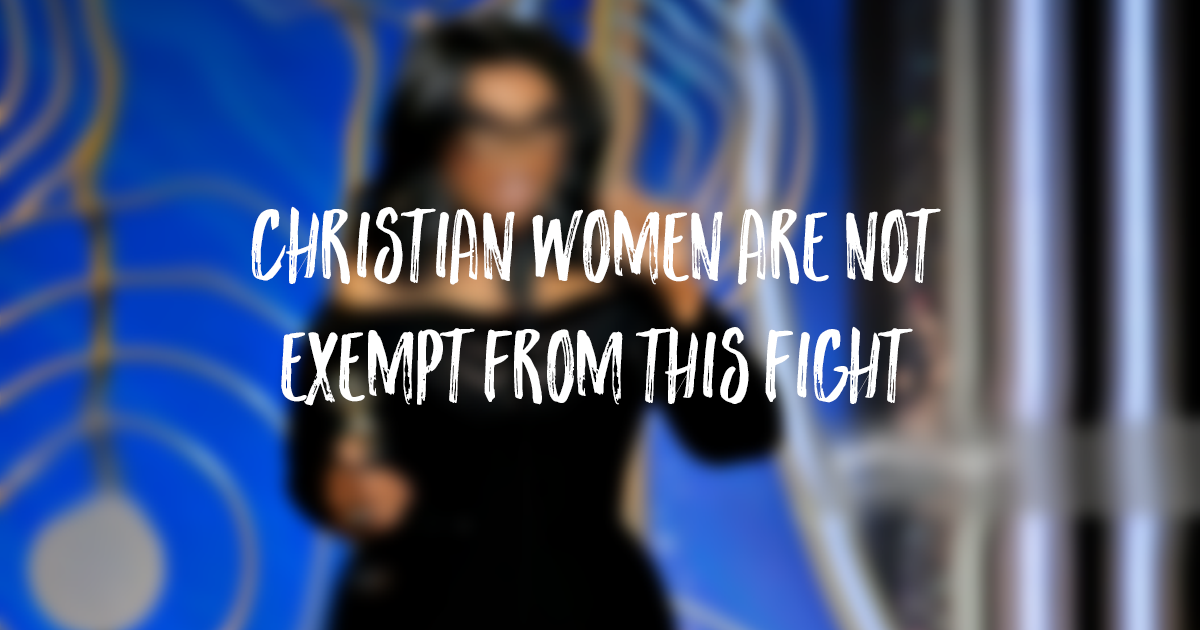 Oprah Winfrey's acceptance of the Cecil B DeMille award last night at the Golden Globes is a message that was heard around the world.Her voice didn't simply highlight the truth of this time in history… it came into agreement with God's ultimate Truth…
The heart of God has always been for justice.
The heart of God has always been for freedom from all bondage – physical, mental, spiritual and emotional. The heart of God has always been to rid us of shame, brokenness, and torment.
The heart of God has always been to see each person restored in right relationship with Him, and living in the fullness of the freedom He purchased through death on a gory cross. This is God's heart for His people.
And so, when a person stands in a room and declares that Hope is coming for those who still live in fear and brokenness… when someone says to millions of people watching,
"I want all the girls watching here, now, to know that new day is on the horizon! And when the new day finally dawns, it will be because a lot of magnificent women… and some pretty phenomenal men, fighting hard to make sure that they become the leaders who take us to the time when nobody ever has to say "Me too" again."
Hope rises… because this is the heart of God for His people… for His daughters… to live in a time when those in power fight for justice and when abuse is no longer tolerated.
This is what shook so many to the core as Oprah completed her speech. This promise. This agreement with Heaven's desire for earth.
I believe that when a person speaks the heart of God, no matter who they are, it creates a space for Him to move.
And as Oprah spoke the heart of God, she propelled a move already taking place inside and outside the body of Christ.
As the body of Christ, it is important for us to remember that this movement of women's rights, equality and justice is not a movement that takes place independent of the Church. This is a movement that permeates through both churched and unchurched alike.
God longs for women to know their strength and their worth. God longs for women to be restored into their rightful place of honor. God's desire is for women live fearlessly powerful lives as ambassadors of His Kingdom, free from anyone who would abuse them and shroud them in shame. And God's heart is for men and women to come alongside one another as allies in this fight for justice.
A general in the battle for women to know their true identity and worth, Lisa Bevere, once said that women and men have been divided for too long.
"The Enemy doesn't want the women to come alongside the men and lend their strength and lend their voice and remember who they are. So, he is causing division." The Enemy knows how powerful we would be if were to come together.
Lisa also said, "I have no doubt that even now God is saying to us, "Daughters, listen carefully. I'm going to do something in the earth that will shake things up and get the world's attention." God longs to have a people who will turn the world's attention to Him."
And as it turns out, it's us. Women are the something that shakes things up and gets the world's attention. The shaking is the sound of the Presence of God invading the earth as women declare the Truth that we know who we are and we know whose we are. And as we join our voices together as daughters of God and create a safe place for those who have been afraid to speak, we allow the light of God's love to heal the hidden places of shame in the hearts of our sisters.
God's love for women cannot be hidden. He loved us enough to create us as the answer to the very first problem (man was alone.)
He loved women enough to weave us throughout His redemptive plan for His people  – Sarah, Rebekah, Leah, Tamar, Rahab, Ruth, Bathsheba and Mary.
Jesus loved women enough to care for them, teach them, honor their actions in front of other men as He walked the earth.
Jesus loved women enough to appear first to them after His resurrection, trusting them as the first witnesses of the greatest miracle on earth.
And He loves women enough now to use us a great shaking to sweep millions of people into the Kingdom of God.
Last night Oprah said, "Speaking your truth is the most powerful tool we all have."
As daughters of God, it's time to add our voice and speak the Truth that we carry into the conversation of women's rights and equality and justice.
The #metoo and #timesup movements may not have begun in the Church, but we are not excused from this fight. We are not exempt from this discussion. The world needs our voices now more than ever.
So, what is the role of the Christian women in this movement? As a body of Believing women, we commit ourselves to knowing our worth. We commit ourselves to becoming compassionate champions of one another. We commit to no longer sitting blithely by while our sisters cry out for help and healing. And we commit to bringing the authority we carry into this conversation as we allow the Truth to heal what only He can.
(UPDATE: As I was writing this article, I never once thought that I would have to clarify my feelings or my affiliation with Oprah the woman. The article wasn't about Oprah. The article was written as a response to the conversation that quickly arose online after Oprah gave her speech at the Golden Globes.
It has always been my heart to take what is at the center of the secular conversation and see how we should respond as believers. This is not the first time I have addressed a cultural issue and pointed back to Jesus and His desire for His people. So the question I asked myself after Oprah gave her speech and so many believers and non-believers alike seemed to have quick and strong feelings about it was this, "As a body of believing women, what should our response be to this speech?"
The truth is, Oprah and I likely do not agree about the character and nature of God. I'm not entirely certain we believe in the same God. There have been a few specific instances where Oprah has expressed views that contradict my firmly held faith. But this does not mean that her speech was unable to express what God feels in His heart for His daughters. 
Even in Scripture, Pharaoh's dream and Joseph's interpretation created a space for the world to be saved from famine. There was value in Pharaoh's dream. There was value in Oprah's speech.
This post was never in support of Oprah's religious affiliations or beliefs. It was to remind us to reach out as ambassadors of God's love and healing to those who are a part of the #metoo and #timesup movements. 
And to be completely honest, I'm a little broken-hearted that this clarification is even necessary.)