For the Momma Who Wonders if Anyone Notices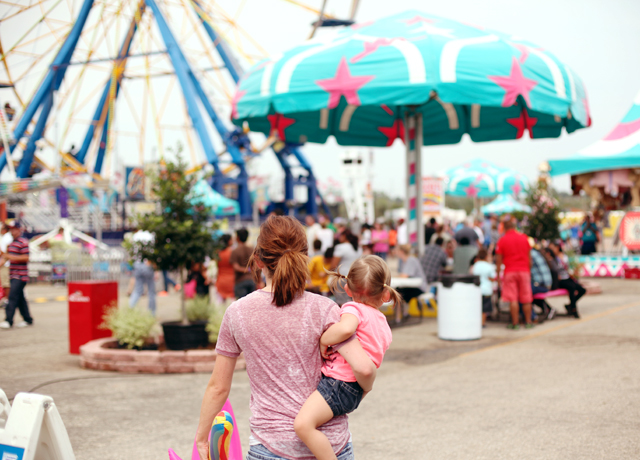 I was painting my bedroom, a project that was taking much longer than I anticipated, and it was getting closer to dinner and bedtime. I'd have to put off the rest of the painting until after my three kids were asleep for the night. I was just about to wrap up the roller when my three year old walked in and said, "Oh wow, Mommy. Look at what a good job you're doing. You're doing a very good job!"
So sweet, right?
"That's so nice, buddy. Thanks for telling me I'm doing a good job. It's nice to notice and tell our friends when we are proud of them."
Before he left the room, he said..
"I know'd that, Mommy. That's why I telled you that. Everyone tells Kolton he's doing a good job. Everyone tells Kadence she's doing a good job. Everyone tells me I'm doing a good job. But nobody tells Mommy."
I turned around.
"Nobody ever tells you that you're doing a good job. But I telled you. I see you doing a good job lots of times. You're very good at the stuth (stuff) you do."
I put the roller back down into the paint tray and went over to the bed where he was sitting.
"Thanks, for noticing, Jax. That means so much to Mommy."
I gave him a hug, excused myself from the room and walked into my bathroom to cry alone. (My three-year-old doesn't quite understand happy tears just yet.) Alone, I cried for a few different reasons.
I cried because, like you, as a momma I put my kids' needs before my own daily. Sometimes I wonder if anyone notices.
I cried because I didn't realize how much I needed someone to notice. I didn't realize that even though it's my joy to love my family and care for them, it would be nice to hear, "You're good at it. You love us well. I see all of your hard work. You take care of us well. Thank you, Mom."
And I cried because maybe they actually do notice. Maybe they're thinking it. Maybe they just don't say it as often as my heart apparently needs to hear it.
Momma friend? Maybe you need to hear it, too. Our children might not understand the stress or the work orthe exhaustion involved with the ways we love them, but they feel our love and it matters.
Beyond what our children see, we can be confident that our Father in Heaven sees everything we do. One momma named Hagar declared this truth in Genesis 16:13. Pregnant, alone, abandoned, and wondering where God was, He came and spoke directly to her. She responded, "You are the God who sees me." 
He sees you too. You aren't overlooked, forgotten or abandoned. You are seen, remembered, and loved.
Tonight we pray for the momma who wonders if anyone notices. Lord, she does so much for her family because she loves them, and while they see it and feel it, they don't always say it. So, Lord, lean in and whisper exactly what her heart needs to hear right now. Remind her that You see it all. You know all of her successes and all of her not so great moments, and while she isn't always so sure she is doing a great job, You say she is more than enough. You say You're proud of her. And we agree. We ask in Jesus's name, Amen. @Midnightmomdevotional
Book Spotlight
MIDNIGHT MOM DEVOTIONAL: 365 PRAYERS TO PUT YOUR MOMMA HEART TO REST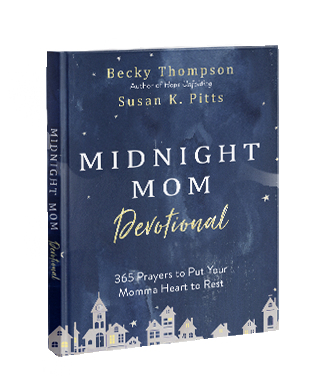 Did you know that every night over one million women pray for moms just like you? If you have ever felt tired, uncertain, discouraged, overwhelmed, anxious or exhausted, we have prayed for you. We are thrilled to share with you the USA Today national best-selling book, Midnight Mom Devotional: 365 Prayers to Put Your Momma Heart to Rest. In this book, you'll find nightly prayers for all seasons and situations of life.

I have a feeling we are going to be great friends.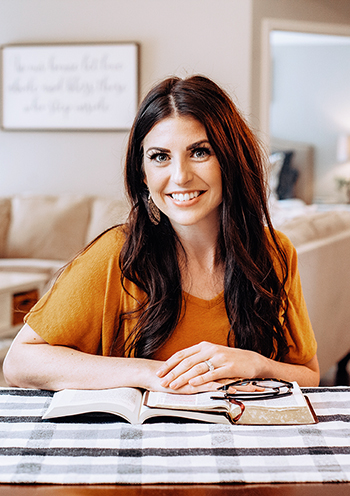 I'm Becky Thompson. I'm the author of  Hope Unfolding, Love Unending, Truth Unchanging, My Real Story, Midnight Mom Devotional (which I co-wrote with my own momma, Susan Pitts), Peace and Midnight Dad Devotional (which I co-wrote with my dad, Mark Pitts). They've been USA Today, Publishers Weekly, and ECPA bestsellers. They've been on store shelves in Target, Walmart, Barnes and Noble, and even Cracker Barrel. Most importantly, they are connecting women to what Jesus says is true.
I began writing online in 2013 when I created a small fashion blog which grew dramatically in just one year. After one of my articles went viral, I found myself with a large following and opportunities I hadn't imagined.
In 2016 I founded the Midnight Mom Devotional Community on Facebook which I run with my momma. With one million moms joining together in nightly prayer, we are one of the largest nightly prayer movements in America. We invite you come join us!
I host the Revived Motherhood Podcast, which became one of the top Christian podcasts in America just weeks after it debuted. Season two releases soon!
In my day to day life, you'll find me living in NW Oklahoma, spending my time as a wife to my husband, Jared, and a momma to our three kids.
I'm so glad that you have found your way to this website. For more information or for booking inquiries, please use the contact page.
So much love!

Looking for something specific?