For the Momma Who Wants Her Joy Back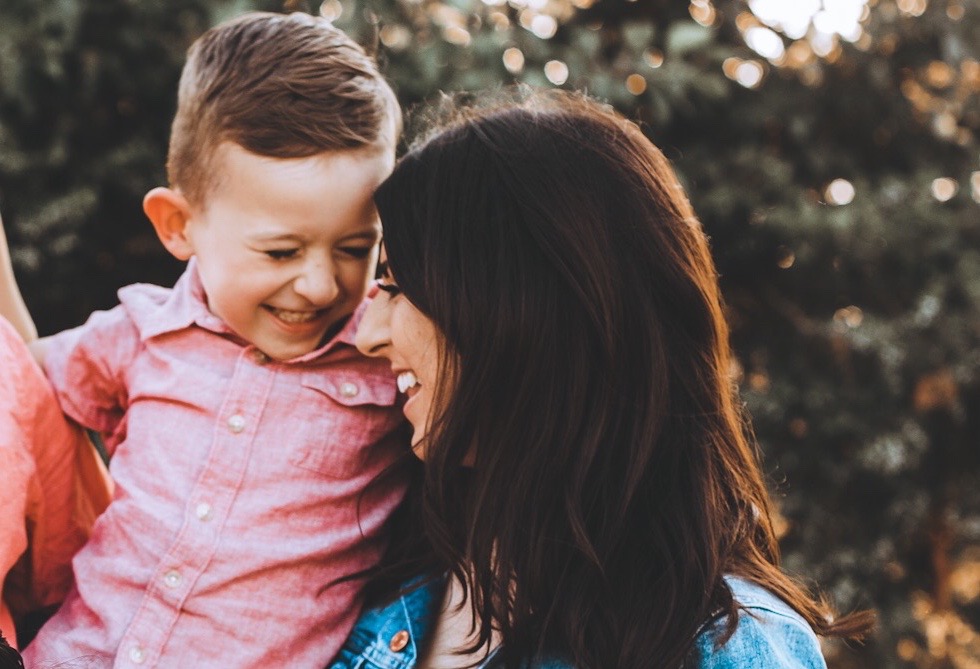 A few years ago I had a conversation with my son that highlighted an area of my heart which needed Jesus's help. We were standing in the kitchen when my son, then seven at the time, said,
"I'm sorry this is so frustrating, Mom."
I should have thanked him, but instead I tried to correct him.
"I'm not frustrated."
But even I didn't believe my short tense words. I wasn't fooling anyone.
He paused and then asked, "Then what are you?"
The truth is… he was right. I was frustrated. I didn't feel happy. And even though I should have been proud of his kind heart, I hated that he noticed.
I always wanted to be a happy momma. I pictured myself as the mom who chooses fun even if it meant cleaning up messes or taking time away from whatever else needed to be done. I started out that way. When my kids were really little I would do things like pull out rolls of wrapping paper and tape them to the kitchen floor. I'd pour out some finger paints and let my kids make art while wearing only their diapers. They'd make these huge messes. There would be paint on the wrapping paper and their hands and feet and bodies. After, I'd put them into the bath and wash them clean.
As I stood there in kitchen talking to my son I realized that version of myself was gone. I don't remember her changing or leaving.
She got busier, I guess. Or maybe she just got more impatient. More easily frustrated. Maybe she lived long enough with the mess and just wanted to maintain order instead. I don't know exactly. I do know that I decided right then that I wanted my joy back.
I wanted to be the happy momma. I wanted to enjoy my life and not just manage it. I wanted to enjoy my kids and not just feel like I was keeping the ship that is our home from siking. I wonder if you feel the same way.
Scripture says that the joy of the Lord is your strength, but I think maybe we got busy trying to do it all in our own strength. We knew we needed His help. We tried to give it over to Him, but deep down we just kept doing it ourselves. And we ended up tired, frustrated, and run down.
We forgot that God's joy isn't just our strength. It's our joy too.
So what's the answer for a momma who wants her joy back?
Well, here's what we don't do. We don't go looking for joy. It's about as effective as adding, "Be happier" to our to-do lists.
The truth is, the Lord has everything we need in His presence. It's all found in Him.
So while we could try and make our own happiness, or find our own joy, or just decide to be better… I think we would find ourselves right where we started.
The answer is Jesus. It's always been Jesus. The answer will always be Jesus.
By that I mean, we don't chase joy. Instead, we stop and invite Jesus into regular moments like this one while you scroll the internet in the middle (or beginning or end) of your day. We look around and say, "I can't do it all, and I need You to help me. Help me enjoy my life. Help me enjoy my kids. Take away the burden of frustration that's stealing my joy and help me remember that all of the things I'm worried about You've already figured out."
Just one moment with Jesus was enough to change many people's lives throughout history. I believe inviting His love into this moment could change just about everything for you.
So if you are the momma who wants her joy back, take a deep breath and know that tonight we are praying for you.

Midnight Mom Devotional
365 PRAYERS TO PUT YOUR MOMMA HEART TO REST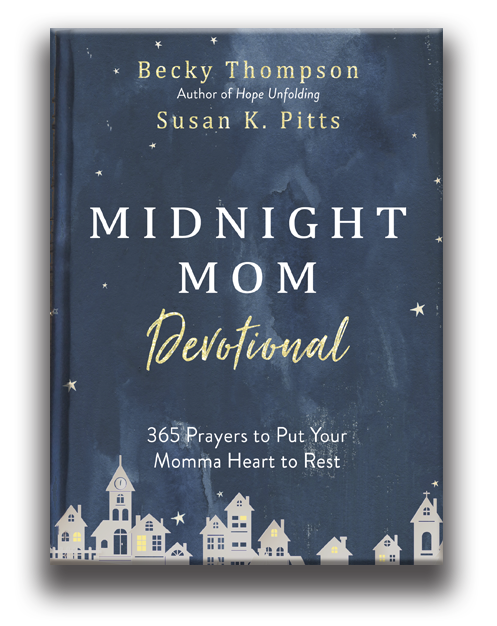 Did you know that every night over one million women pray for moms just like you? If you have ever felt tired, uncertain, discouraged, overwhelmed, anxious or exhausted, we have prayed for you. We are thrilled to share with you the USA Today national best-selling book, Midnight Mom Devotional: 365 Prayers to Put Your Momma Heart to Rest. In this book, you'll find nightly prayers for all seasons and situations of life.

I have a feeling we are going to be great friends.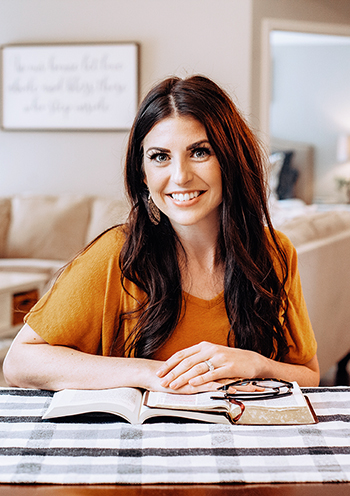 I'm Becky Thompson. I'm the author of  Hope Unfolding, Love Unending, Truth Unchanging, My Real Story, Midnight Mom Devotional (which I co-wrote with my own momma, Susan Pitts), Peace and Midnight Dad Devotional (which I co-wrote with my dad, Mark Pitts). They've been USA Today, Publishers Weekly, and ECPA bestsellers. They've been on store shelves in Target, Walmart, Barnes and Noble, and even Cracker Barrel. Most importantly, they are connecting women to what Jesus says is true.
I began writing online in 2013 when I created a small fashion blog which grew dramatically in just one year. After one of my articles went viral, I found myself with a large following and opportunities I hadn't imagined.
In 2016 I founded the Midnight Mom Devotional Community on Facebook which I run with my momma. With one million moms joining together in nightly prayer, we are one of the largest nightly prayer movements in America. We invite you come join us!
I host the Revived Motherhood Podcast, which became one of the top Christian podcasts in America just weeks after it debuted. Season two releases soon!
In my day to day life, you'll find me living in NW Oklahoma, spending my time as a wife to my husband, Jared, and a momma to our three kids.
I'm so glad that you have found your way to this website. For more information or for booking inquiries, please use the contact page.
So much love!

Looking for something specific?