Modest Momma Style: Summer Romper
Saturday, June 29th, 2013
So, I have made it no secret that I live in the country. Well, in what I would consider "the country." I grew up in NW Oklahoma City and a few years ago my husband and I moved to NW Oklahoma. Please do not misunderstand me, I really enjoy living here, but there have been a few things recently that have made me declare out loud to my sweet husband, "That's it! We're moving!"
We live about 30 feet from a wheat field. This was taken from my back porch.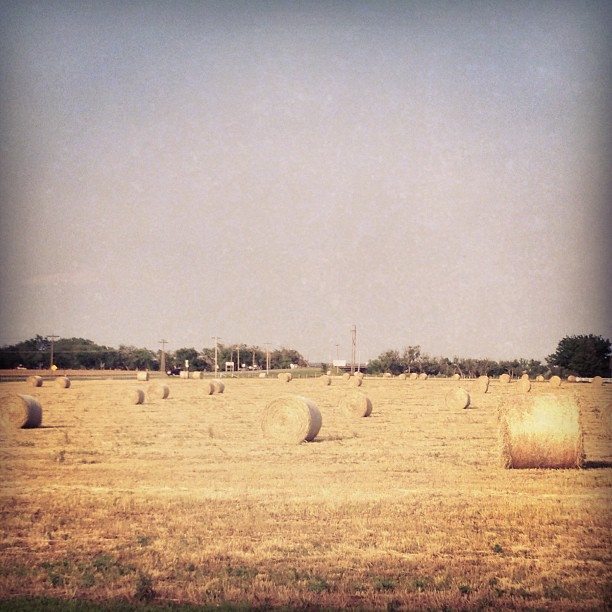 I know that there are critters that live out there too. I have seen snakes and mice and large spiders and millions of bugs called "springtails." Those are a story for a different day. Today, we will continue with what I have labeled "Mouse fiasco part 1." If you didn't read the first part of this story, please feel free to click here. Did you read it? Okay. Now that you are caught up, we can move on.
So, we set a bunch of traps around our house for our little renegade house guest and leave for the weekend to my parents. Upon our arrival home, we find a small house mouse stuck to one of the sticky traps. My big tough husband realizes that he will have to decide what to do with this living creature that is not capable of freeing itself from the trap in our house. So, he does what every strong brave man would do… and pulls each of the little guys feet and then tail from the sticky trap and takes it out into the field.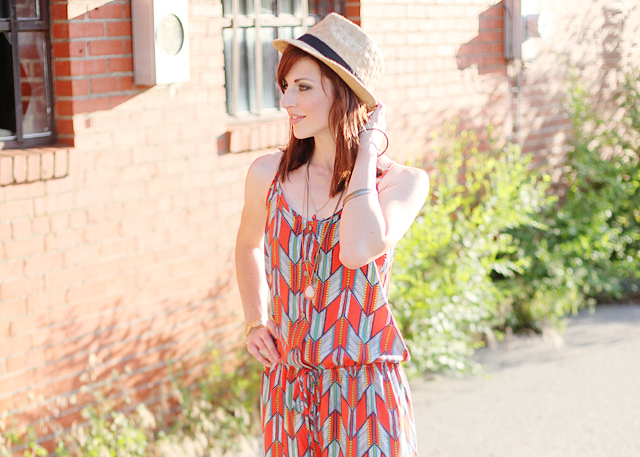 I couldn't believe it! Who does that?! No one. Do you know why people do not remove the mouse and let it go free 30 feet from their house? Because it will beat  you back to the house! That's exactly what happened with our little mouse… my husband carries it out into the field and it ran right back up onto the porch. So, he scoops it up into his boot and takes it further away. I thought we just talked about this… Palm to forehead.
A few days later we are cleaning off our back porch when SURPRISE my husband declares, "Our mouse it back!" as it runs out from under one of the kids' toys. I'm not quite sure how, but we manage to scoop it up into a shoe, and I decide that I will personally take care of it this time. I carry it in the shoe a quarter-mile away, across a state highway and into a drainage ditch where I dump him out and wish him farewell.  This is real life people.
So, last night my husband and I are sitting on our bed watching TV when a mouse runs right into our room! We fly into action, corner it, and set a MILLION sticky traps across its only escape route. We scare him from his hiding spot just knowing that we've got him now… and the dang thing JUMPS OVER THE TRAPS! He is learning!        We are not.
So. Mouse fiasco continues. He is in the house. My food is in glass jars and I am keeping a crumb free environment until I can capture him and permanently dispose of him. That is hard with a 3 year old and a 2 year old.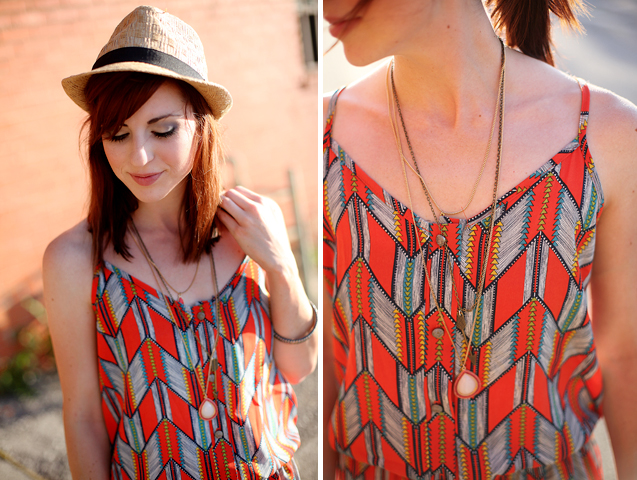 Oh well. This is life in the country, folks. Peaceful. Quiet. Mousey. Check back soon for mouse fiasco part 3… and 4… and …
In other news, we've got a trend alert. It has been around for a little while now, but if you haven't jumped on board yet, you should consider making your next wardrobe purchase a romper. Yes. Summer of 1995 called and said, "Hey girl. I missed you. Put on a romper." Seriously. Tell me you didn't own a least one romper when you were little. I lived in them. This is a much classier version and I'm missing some jellies. What do you think? Is it a trend for you? I love hearing from you all!
Romper: Hazel and Olive
Shoes: Jessica Simpson
Hat: Forever 21
Necklaces: Arrow – Felt Bird // Long Drop – Maurices
Comments