God So Close
Experience a Life Awakened to His Spirit
This is for the woman who wants more than ordinary. She wants to experience a real relationship with God like the people she reads about in Scripture. She wants to recognize when He speaks, go where He leads, and move beyond just acquiring information about God. She wants to know Him as a Friend, Comforter, and Helper.
Come experience just how close God really is. Come discover the nearness of the Holy Spirit.
Midnight Mom Devotional
365 PRAYERS TO PUT YOUR MOMMA HEART TO REST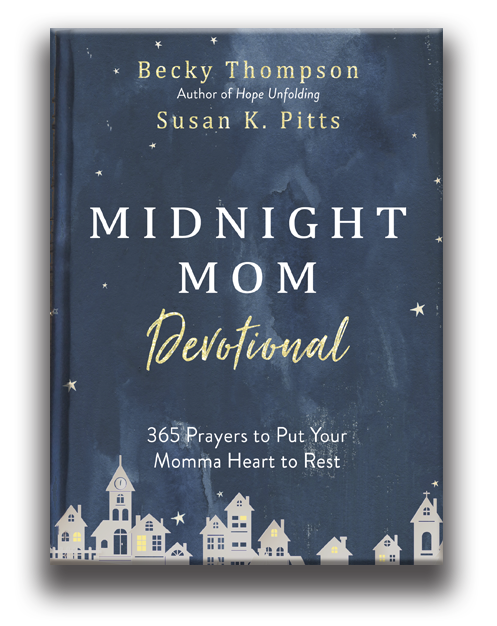 Did you know that every night over one million women pray for moms just like you? If you have ever felt tired, uncertain, discouraged, overwhelmed, anxious or exhausted, we have prayed for you. We are thrilled to share with you the USA Today national best-selling book, Midnight Mom Devotional: 365 Prayers to Put Your Momma Heart to Rest. In this book, you'll find nightly prayers for all seasons and situations of life.
PEACE
Hope and Healing for the Anxious Momma's Heart
Midnight Dad Devotional
100 Devotions and Prayers to Connect Dads Just Like You to the Father
Every stage of being a dad comes with its own set of challenges. But one challenge encompasses them all--how do I become the best dad I can be? In Midnight Dad Devotional, author Becky Thompson joins her dad, Dr. Mark Pitts, to lead you on a journey of discovering the Father's heart so you can be encouraged, strengthened, and challenged in your role as a dad.
Hope Unfolding
Grace-Filled Truth for the Momma's Heart
Love Unending
Rediscovering Your Marriage in the Midst of Motherhood
How do I remember how to be a wife when I am busy being a mom? It's easy for those feelings we experienced in the first days of love and marriage to become buried beneath hurried life, active children, and mountains of bills and laundry. Take the Love Unending 21-day challenge and discover the best way forward is to look back at the beginning.
Truth Unchanging
HEARING GOD DAILY IN THE MIDST OF MOTHERHOOD
Even when there isn't noise around us, there is usually noise within us. The constant to-do lists that spin in our minds, the worry and wonder if we are doing a good job, and the need to stay two steps ahead of our families when we feel two steps behind keeps our minds routinely restless. So when quiet time with God isn't so quiet, and alone time is nearly nonexistent, how can we hear God speak?
My Real Story
One Year to Record, Reflect and Remember
We don't always recognize the story God is writing in our lives, but God has used every breath in every season of our lives to prove His goodness and His love... not just for us, but for the world around you. With mini-devotions, personalized prayers, reflection pages, and spaces to record those moments you don't want to forget, this journal helps you see that you have lived a story, you are living a story, and you have a story to tell.
All content is copyright 2013-2023, Becky Thompson - Thompson Family Ministries LLC. All rights reserved. Do not reproduce without written permission.
As an Amazon Associate I earn from qualifying purchases.