Little Girls and Their Mommas
Thursday, October 30th, 2014
"You're a mean momma!" She shouted as she pushed her tiny thirty pound body away from mine.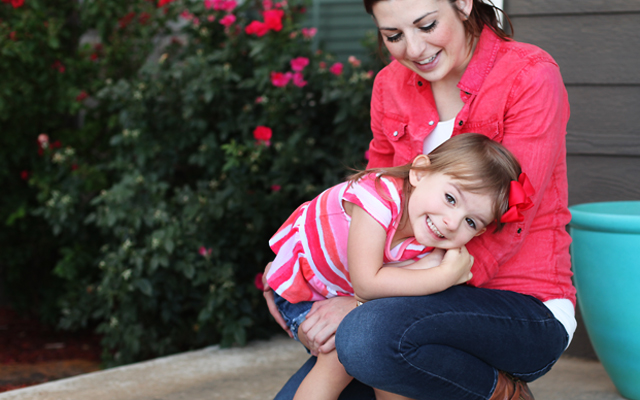 They were hurtful words, but I knew she didn't mean them. I mean, she did, but… she didn't really.
On this day, I wouldn't let her have another juice box before bed.
"Sister. Momma doesn't want you to have an accident in bed while you sleep. You cannot have another juice box right now. But we CAN have one tomorrow morning during breakfast if we don't throw a fit about it tonight." She wasn't buying my nodding head and exaggerated smile. As a matter of fact, I'm pretty sure all she heard was "blah blah blah NO blah blah blah YOU'RE NOT GETTING YOUR WAY blah blah blah you can begin crying now."
Because that is exactly what she did. Her knees to her chest, her face in her hands, with tears from a broken heart pouring down her face – she cried. I knew that she was overtired. I knew she didn't really want to be upset about a juice box. She doesn't normally throw fits, and she doesn't ever say hurtful words. But her emotions were bigger than she could manage… and it all led to this moment on the kitchen floor.
She wanted to be alone, but she needed to be held.
She wanted to be upset, but she needed to feel loved. And I could have walked away. It would have been so easy after the long day that I had… and she needed to learn her lesson after all… But I made a choice instead. I sat down right next to her… and I waited.
And after a few minutes, without any warning, she crawled into my lap, wrapped her arms around my neck, and began to cry into my sweater.
And there on the kitchen floor, I whispered into her hair, "Momma is not going anywhere. I'm right here. I've gotcha." And while my words stopped, my heart continued to say, "If you're sad or hurt or ashamed. If you're lost or scared or confused. Whether you love or just tolerate or cannot stand me – I'm not going anywhere. I will be waiting right here to scoop you up and hold you close."
And it is true…
When she goes to school and the other girls aren't so kind.
When she begins to turn into a young woman and suddenly the world doesn't make any sense
When she screams that she hates me for not letting her stay out late with her friends, or go to the party that is so important, or wear or do or be things that she would regret latter.
When she sets off to find out who she is and should she get lost along the way.
As she discovers her purpose and her passions, and as she turns into the woman that God has created her to be.
When the relationship ends with the one that she thought she loved, as she finds and marries the one that she truly loves.
And on the day that she becomes Momma too.
I will be right next to her through all of it just like I was on the kitchen floor.
And someday, when that precious little girl of her own begins to cry, she will find herself choosing to stay and sitting down and waiting for her own little love to crawl into her lap… and in that moment, the thought of me will be with her there too.
Because that is the story of little girls and their mommas.

I try and stay in touch with my readers on a personal level through social media. Share this post to pass it on, and then click here to find me on Facebook.
Comments