Midnight Mom Devotional
FROM THE TEAM BEHIND THE MIDNIGHT MOM DEVOTIONAL FACEBOOK PAGE, COMES
MIDNIGHT MOM DEVOTIONAL: 365 PRAYERS TO PUT YOUR MOMMA HEART TO REST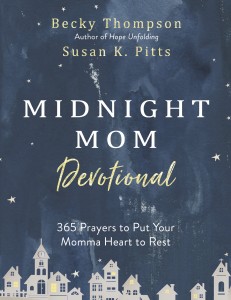 There is something about a quiet house in the midnight hours that causes stress and anxious thoughts that have been ignored throughout the day to rise to the surface of a mother's heart. When the world goes still around you, it's good to know you're not alone; there are so many other mommas just like you and a God who wants to meet you in the quiet.
Hi! We are Becky Thompson and Susan K. Pitts, and we cannot wait for this book to be in YOUR hands!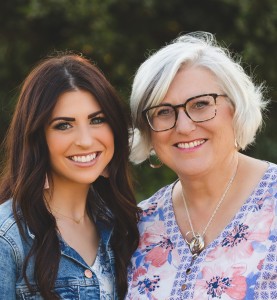 What began as a small online prayer ministry to encourage moms in the middle of the night quickly grew into a worldwide prayer movement known as the Midnight Mom Devotional. Now this encouraging book of nightly prayer connects you with a community of moms to strengthen your heart and give you support when you need it most. If you like our Facebook page, you'll love this book.
Each night offers a different prayer for mommas in all circumstances of life, including
being fearful and anxious
needing a miracle
caring for a sick child
feeling as if there is nothing left to give
welcoming a new baby
experiencing sorrow
getting ready for a new beginning

MIDNIGHT MOM DEVOTIONAL releases March 31, 2020, but you can preorder now.
With nearly ONE MILLION moms praying with us nightly, we recommend reserving your copy before they sell out.
Preorder from one of your favorite retailers:
We are planning some fun preorder gifts for those who preorder between now and March 31st, 2020. Fill out the form below to stay up to date on all news surrounding book launch, preorder gifts, and advanced copy giveaways.