There is hope and healing
for your anxious heart
Fear often feels like a dark forest with no clear path forward. I know these lonely woods of worry, and I know how much you long to be free. The world needs PEACE now more than ever. The Good News is that PEACE is a person, and He is going to walk with us until the dawn breaks and we reach the clearing.
momma, listen closely.
anxiety is not just a
faith issue.
We are often told, "If you prayed more, had more faith, and trusted Jesus, you'd have more peace."
But what does it mean when a momma does all of those things and continues to worry?
How does she reconcile her feelings of fear with her faith in God?
And how does she raise her children in a home full of peace when she feels anything but peaceful?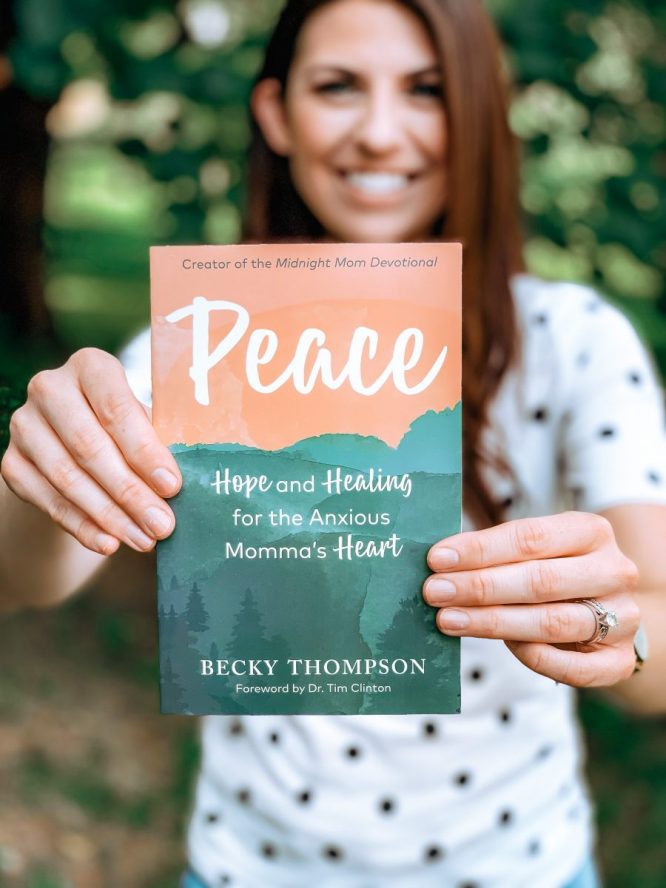 in this book
you will learn
→ How we can feel afraid and still be women of great faith
→ How Jesus Heals Us Using Multiple Methods
→ How Modern Motherhood Affects Our Mental Health
→ Why we Need One Another to Overcome Anxiety
→ How to Recapture the Power of our Imaginations
→ And So Much More…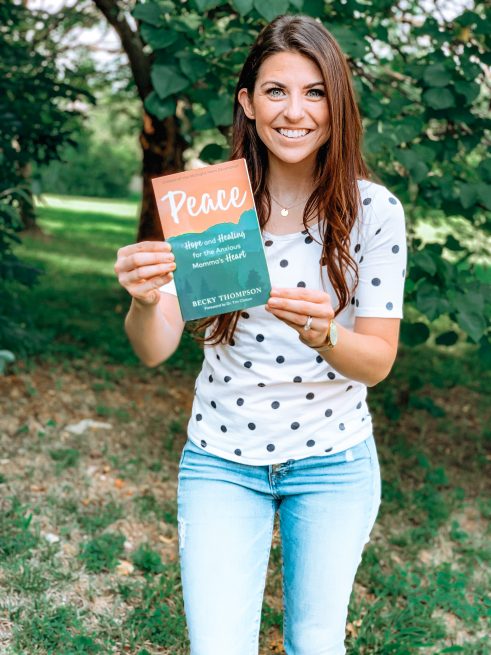 what are you waiting for?
available now
choose a retailer

I am the author of six books, Hope Unfolding, Love Unending, Truth Unchanging, My Real Story, Midnight Mom Devotional and the soon to be released title, Peace. My heart is to be a voice for women in need of encouragement, healing, and the Father's love.
I began writing online in 2013 when I created a small fashion blog which grew dramatically in just one year. After one of my articles went viral, I found myself with a large following and opportunities I hadn't imagined. My first book, Hope Unfolding, was published with WaterBrook, a division of Penguin Random House, in 2016.
I'm the founder of the Midnight Mom Devotional Community on Facebook. With one million moms joining together in nightly prayer, we are one of the largest nightly prayer movements in America. We invite you come join us!
I host the Revived Motherhood Podcast, which became one of the top Christian podcasts in America just weeks after it debuted. Season two releases soon!
Through all that I share, my prayer is for the Lord to meet you as you read or listen. My hope is that you realize you aren't alone. There is a God who loves you and never leaves you and there are millions of other women who feel just like you.

In my day to day life, you'll find me living just outside of Nashville, spending my time as a wife to my husband, Jared, and a momma to our three kids.
I'm so glad that you have found your way to this website. For more information or for booking inquiries, please use the contact page.
So much love!
Becky
 COME JOIN US
FIND ME ON FACEBOOK
 COME JOIN US
FOLLOW ME ON INSTAGRAM
Get IN Touch
jared@beckythompson.com
All content is copyright 2020, Becky Thompson – Thompson Family Ministries, Inc. All rights reserved. Do not reproduce without written permission.